GMT Composites has been building carbon fiber masts for sailboats longer than anyone else in the world. Our masts have sailed in every ocean, including many successful passages around the globe. They have competently handled the most demanding wind and weather conditions under sail, and have produced winning results in many of the world's most prestigious sailing events.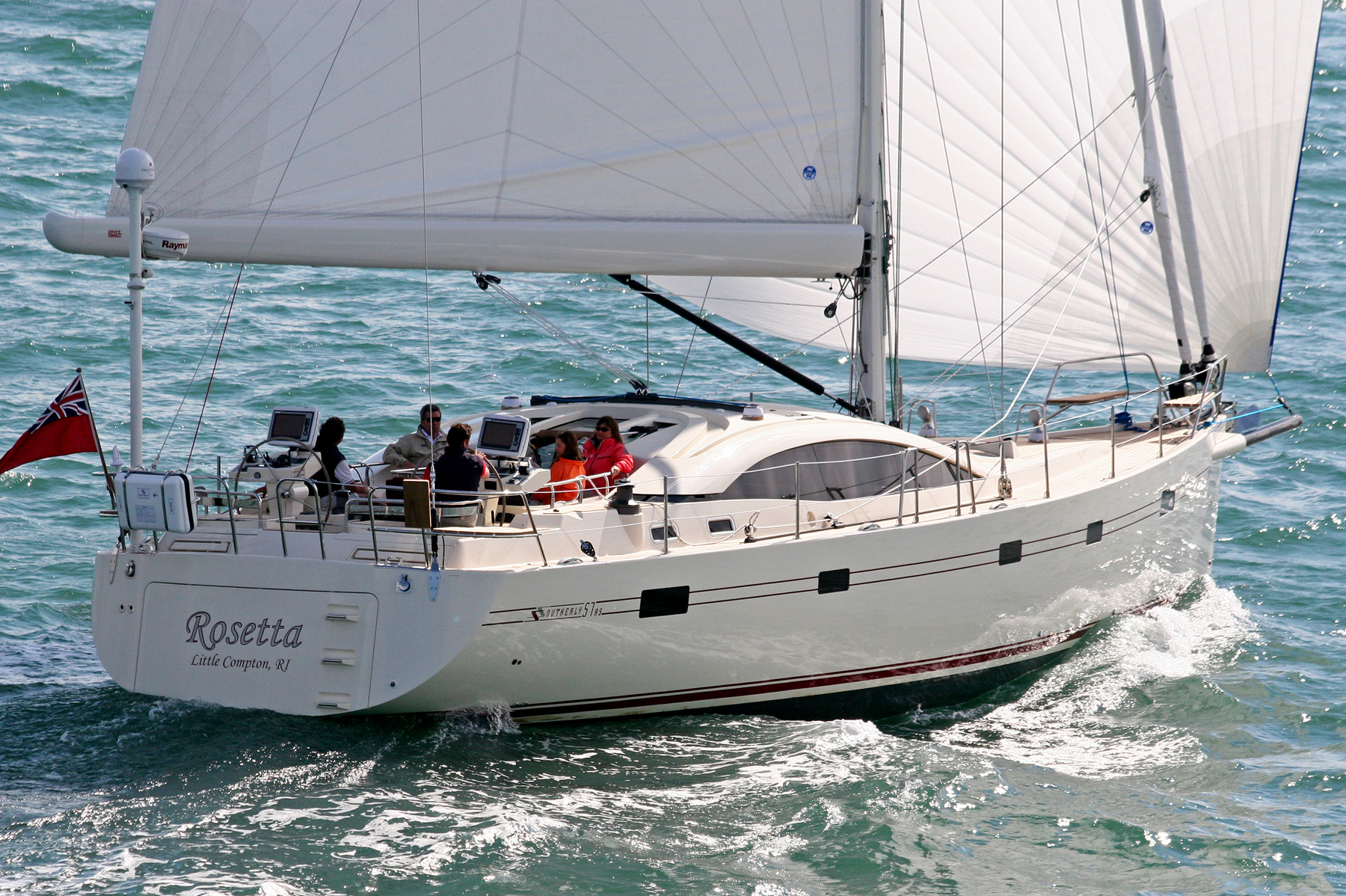 GMT carbon masts are light (approximately half the weight of aluminum), safe, dependable, and will make your vessel faster, stiffer and drier. They are less inclined to heeling and hobby-horsing(pitching) and thus are able to provide a more comfortable motion at sea or on anchor. Their beautiful finish, compared to aluminum, is easier to care for, doesn't corrode, and is exceptionally long-lasting. GMT has worked with world renowned builders and designers such as Nautors, Hinckley, Morelli and Melvin, Lyman-Morse, Hylas, and Brooklin Boatyard, to name a few, and we welcome all projects big and small.
the gmt difference
Working with GMT Composites means working with a specialist who will custom design a solution specific to your needs and requirements. There are different approaches for developing masts for racers, cruisers, and passagemakers. We are not a huge mass production outfit that will tell you what you want and what sail maker you need to work with. The advantages of a GMT custom solution becomes clear as this process develops.
GMT has engineered, detailed and built masts for an unlimited range of vessels and types of sailing. Whether you own a heavy displacement megayacht, traditional or modern cruiser, a classic yacht requiring a replacement spar in refit, or a round-the-world race boat, GMT has the experience and successful record you can rely on. GMT offers both conventional masts as well as in-mast furling systems. We have built masts from 30 to 140 feet (10 to over 40 meters) in length.
fittings and rigging
Building a custom mast allows you an unlimited range in choices: what hardware you want, where you prefer gear to be mounted, and how to build this into your mast in the most harmonious way. While GMT offers the finest and most up-to-date standing and running rigging, hardware and sail management systems, we also understand that not everyone has a grand prix racer's budget.
GMT rigs are fully customizable, allowing less exotic fittings and details that still deliver the benefits of a carbon mast but at less cost. For example, an alloy masthead and spreaders or a stainless steel gooseneck can be specified in lieu of all-carbon construction.
Mastheads are custom built to your specifications including the number of halyards, arrays of wind instruments and electronics, as well as custom cranes for large roached mainsails and code zero headsails. And our masts can be delivered with all the attendant standing rigging, whether you specify wire, rod, PBO or carbon.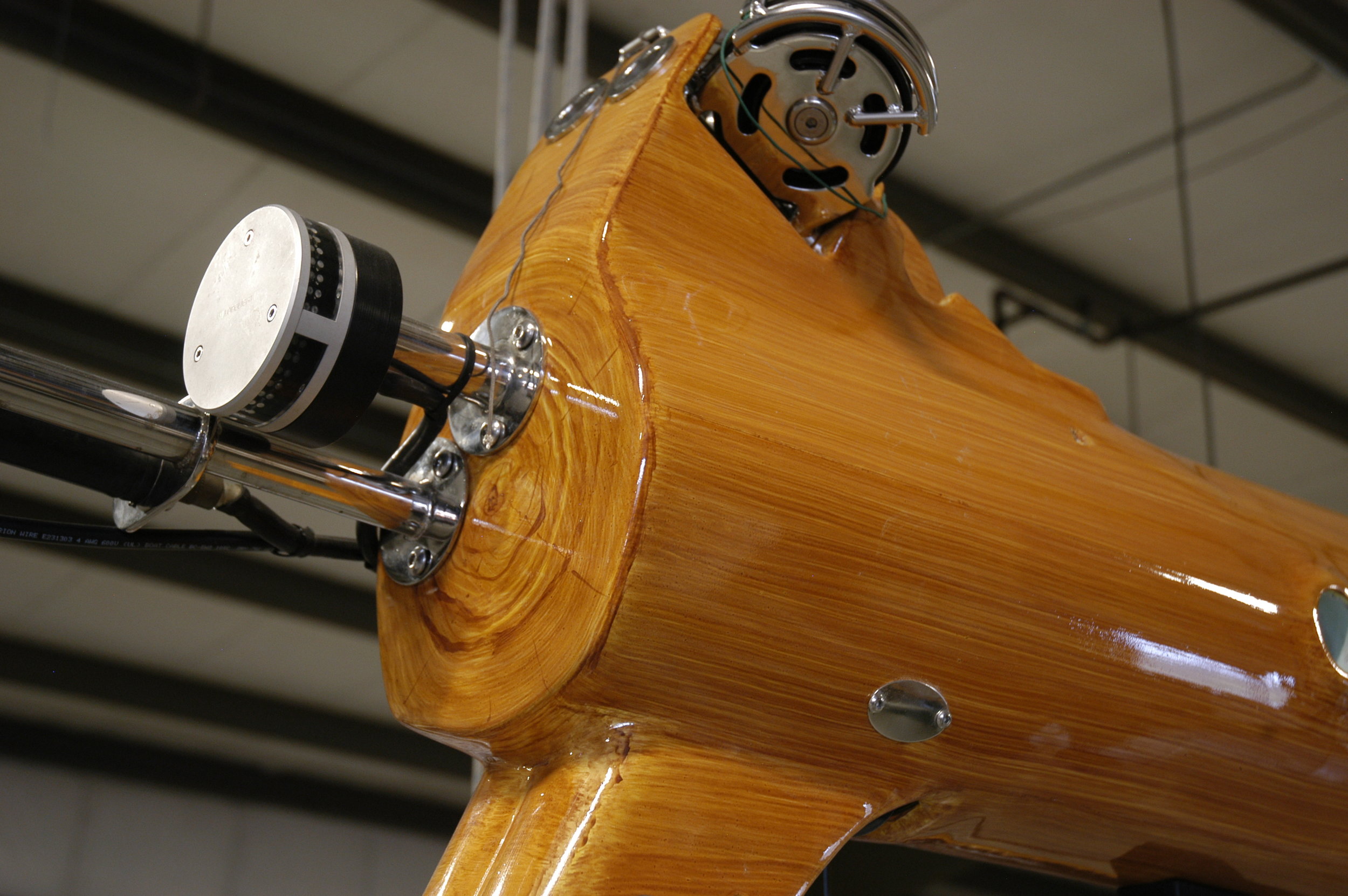 finish
Most of the earliest carbon spars were finished in clear-coat linear polyurethane. This allows you see the distinctive color and weave pattern of the carbon twill: it's a high-tech look that remains distinctive and popular. But linear polyurethane paint also comes in an almost limitless range of colors, so we can match your hull, your deck or even a color swatch you provide us.
GMT was a pioneer in the development of the "faux bois" finish. For traditional yachts, restorations of old and historic vessels, as well as for those who just love the look of wood, our faux bois ("false wood" in French) finish is ideal. Even close-up, faux bois appears to be wood. We can match the color and grain of any species of tree and have been sent sections of actual wooden spars whose color, grain structure and even natural imperfections we were able to duplicate in polyurethane.
FAQs:
Is a carbon mast worth the extra cost? For many, yes. Carbon saves a lot of weight aloft, so it reduces heeling and pitching, making boats faster, more close-winded, and noticeably more comfortable. The finish is also nicer and easier to maintain when compared to an aluminum mast, and as aluminum has become harder to source over time, the cost difference is not what it once used to be.

How strong is carbon? At far lighter weight, carbon is actually stronger than aluminum. GMT has customers whose masts have survived boatyard accidents, unintended gybes in storm-force winds, and a full 360 degree roll - all situations those customers felt would have destroyed a metal mast.

Will a GMT carbon mast last? A GMT mast was fitted as original equipment on Cray Valley, an Open 50 race boat (currently named Totallymoney.com), that continues to race single-handed and double-handed across oceans and around the world; it has traveled without repair for over 120,000 miles. GMT's first two carbon spars made in 1990 are still sailing today. We have many more examples including Defiant, a Hinckley 70 that went through a complete refit and our mast went back in. And we can't forget the custom Bill Lee 70' Merlin; She made a comeback winning the Transpac in 2017 using the mast we built for her in 2005. Bottom line, GMT spars last!

Is a carbon mast hard to maintain? Actually, it's easier to maintain than aluminum, which can pit or corrode if not perfectly maintained. Carbon is not affected by a saltwater environment the way aluminum is, and the polyurethane finish is more durable than paint on aluminum, and can easily be touched up if scratched or worn by abrasion.

What modulus carbon does GMT use? We build spars in standard, intermediate, or high modulus carbon fiber. The choice depends upon your individual requirements, and we will discuss the optimum solution with you based on your goals.

Is a carbon mast built in an autoclave superior? After a considerable amount of research using 3rd party data, the differences are insignificant, in fact, there are a number of advantages to not using an autoclave, but the bottom line is that it comes down to the builder and the materials used. See our full report here.

What boats carry GMT masts? GMT spars have graced yachts built by Alden, Baltic, Brooklin, Concordia, Cherubini, C&C, Deerfoot, Freedom, Hinckley, Herreshoff, Hylas, Lyman-Morse, Morris, Nautor Swan, Northshore, PJ, Sabre, Tartan, Open 40s, 50s and 60s, and hundreds of custom yachts worldwide. See our testimonials page for more.

More questions? You probably have more questions; please give us a call for answers. We welcome inquiries from builders, designers, sailmakers, riggers and, of course, from boat owners.
owner resources
Click Here to view or download our Carbon Fiber Mast Maintenance Guide
Click Here to view or download our Carbon Fiber Mast/Rig Tuning Guide